The Band
Donna Lamoureaux - Lead Vocals, Flute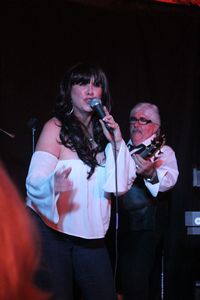 Donna Lamoureaux has been a professional musician for many years with talents in both singing and playing several instruments. Originally from New York, she has traveled the United States singing and playing with Show Groups such as Apple Band, an Atlantic City based Show Group. She performed, among others, tributes to the Andrew Sisters, the Supremes and Aretha Franklin.
Donna relocated to Florida, where she performed at Universal studios with an  a'capella group called The Hi Tones , where  she  continued to develop her musical abilities, Donna was also part of a Show group at Church Street Station in Orlando. She performed music in Tribute to the music from the Big Band Jazz and Swing era, as well as musical shows from the 60s to the 90s.
 
  Donna relocated to Sarasota Florida where she was contracted for a year to sing Jazz at the Ritz Carlton. Now living in Sarasota , she  continues to use her talents working with numerous local music groups singing all eras of music . She is known for her extraordinary vocal range, power and clarity, enabling her to sing many different types of musical styles.
Donna also writes her own contemporary Christian music and has finished her first CD called (Only Grace). She is in the process of finishing her second CD.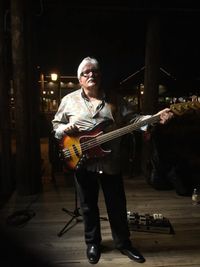 Marty Bednar - Bass, Lead and Harmony Vocals
Marty Bednar has been playing bass since 1975. His specialty is….in not specializing in any one style of bass playing but in becoming a player able to fill the bill in almost any bass playing situation or group. He began playing in local band in the mid 70's and soon fielded the group "Chazz" that traveled playing dance clubs and large party venues in the southeast. His local experience has been extensive  with favorite  regional bands over the years like Sarasota's "The Hurricanes", "The Reason", " The Dave Martin Band", "Jazzology" , "Tropiculture", "Ultrasound" and he founded the 60's Music Tribute Band, "Yesterdayze" in 2005. 

Marty has played literally thousands of gigs from corporate events, country club and yacht club events, private parties, many, many fairs across the country as well as festivals, regional community events and almost he's played almost any musical genre you can imagine.

As a band leader, Marty has a talent for finding good players, finding good team members, setting a course for the band in terms of theme and musical genre, organizing the logistics and tasks needed to help make a band a successful and he enjoys the sales and marketing end of the business as well.   

The  "Paisley Craze" 60's music anthology band is a labor of love for Marty where so many playing styles are needed in one setting and so, so much great music is available to be played for one audience. Rock, pop, Latin Rock, Blues, Swing, Alt Country are all part of the larger picture of the 60's music the grew today's music scene and changed the last 40 years of popular music .

Helping the world have fun through music is Marty's True Love and he's dedicated his life to this pursuit!

Dave Mankes - Multiple Keyboards, Guitar, Lead and Harmony Vocals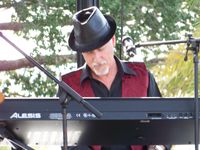 On keyboards, rhythm guitar, lead vocals, and harmony, is Dave Mankes. Originally from New York City, Dave traveled extensively with Buffalo-based "Big Wheelie and the Hubcaps", a highly-regarded 1950s and 1960s eight-piece show band.
After relocating to Florida in 1980, Dave performed all over the state with many different groups, most notably the Dave Martin Band, which he founded with bassist Marty Bednar. For eighteen years, this 6-piece variety dance band performed up and down the west coast of Florida, entertaining all kinds of audiences, and was the highlight of many a high-profile charity fundraising event.
Dave has also been a sought-after side musician, due to his ability to seamlessly blend in with any style of music. In this capacity, he recently performed at the Naples Philharmonic with pop star Lou Christie of "Lightning Strikes" fame, and opened for one of the legends of rock and roll, Chubby Checker.
Always entertaining on stage, Dave can be counted on to add lots of energy to the dance groove, play to the audience, and help make the event a fun and exciting experience.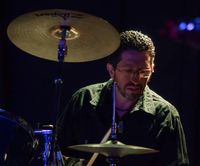 Steve Camilleri - Drums
Steve Camilleri born and raised in Buffalo, New York by way of Nashville and Memphis Tennessee; and currently lives in Sarasota, FL. Steve is an award-winning drummer of the 1993 Western New York Blues Society and loves to play many styles of music . Steve has fronted many shows for various artists like Steve wariner, Billy Ray Cyrus ,Johnny Lee, Tracy Lawrence ,The Outlaws, Pat Travers and other various artists, Steve has toured with 2009 GAC country stars One Night Rodeo for a few years  and had a short run with Dickey Betts & Great Southern before Dickey's Betts recent retirement. He also has had the pleasure of working on numerous National Jingles such as Fox TV ads and the world University games for the Olympics plus national chain restaurant  ads and several demos sessions in Nashville. Steve is currently enjoying his time in the drum chair for Paisley Craze an outstanding 60s tribute band playing Pop,  psychedelic and R&B music of the era not to forget the Linda Ronstadt tribute as well  and many other great things to come.



Bob Dielman - Guitars and Vocals
Bob Dielman is from Cleveland, Ohio....Rock and Roll capital of the world! A full time musician since high school, Bob has played throughput the Midwest and Florida. He's also had a trek through Turkey, Greece, Italy and Spain as a member of The Judy Messenger Show performing for the Dept. of Defense. 
Bob graduated from Musicians Institute in Los Angeles, CA and has also recently produced his solo, blues CD "What were You Thinking". Playing in many bands over
the years Bob was an original member and co-founder of 60's music tribute groups, Yesterdayze and Paisley Craze. Bob's strong and tasty approach to guitar  is a perfect match for the music of Linda Ronstadt.